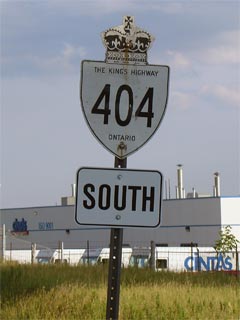 The 404 is crucial to Newmarket. It is our link into Southern York Region and Toronto. Most of us commute outside of town to work in Newmarket. I often hear complaints from our residents about their commutes down the 404 and Don Valley Parkway. Some improvements to Highway 404 will allow Newmarket residents to get to and from work faster while better managing traffic in town. Issues related to the 404, Don Valley and Gardiner Express Way impact Newmarket residents. Public transit, cycling and walking are part of the solution to traffic gridlock; but the reality is that most of our residents drive a car. Here are some Highway 404 improvements that would benefit Newmarket residents:
1, Finish extension to Georgina
Northern York Region has waited decades for the Northern extension to be complete. Progress is being made, shovels are in the ground and soon Highway 404 will reach Ravenshoe Road. This will reduce traffic on Main Street North, Leslie and Woodbine.
2, Onramps at Green Lane, Davis, Mulock and St. Johns Sideroad
Once the Northern 404 extension is complete, Northern onramps will be needed at Green Lane, Davis Drive and Mulock. Growth happening along St. Johns on the Newmarket-Aurora border will increase traffic gridlock in town. A new onramp at St. Johns would serve Stonehaven and Northern Aurora. It would result in 4 interchanges serving Newmarket residents.
3, Extend 3 lanes each way from Aurora to EG
The 404 reduces from 3 lanes to 2 lanes at Aurora Rd/Wellington. During the morning and evening rush hour it is not uncommon for traffic gridlock to extend North along the 404 to Newmarket. Adding a lane to get the same service of Aurora would help address this problem and accommodate future traffic as our town grows.
4, Scrap HOV lanes and fix 404/401 bottleneck
HOV lanes represent green madness. They do not encourage people to carpool. Instead they create underutilized lanes while increasing traffic gridlock. I do not support HOV lanes. They should be scrapped and available to everyone as an additional lane in Southern York Region. Bottlenecks are consistent at the 404/DVP/401 area. Fixing this interchange would drastically cut commute times on the 404/DVP.
5, Oppose tearing down the Gardiner
The Gardiner is vital to commuters across the GTA. It is a crucial gateway for Newmarket residents to get downtown. We cannot tear it down and increase traffic gridlock and commute times between Newmarket and downtown Toronto. Newmarket should oppose any effort to tear it down. It is crumbling but it must be fixed. It is an investment in our economy and quality of life. The Gardiner impacts the entire GTA and should be the responsibility of the province.
Many of our residents spend a good part of their day on Highway 404. Newmarket has a vital interest in issues impacting this highway. We must fight and advocate to make sure our voices are heard. Commute times in the GTA are the longest in North America. This is costing us billions in lost productivity. Highways are vital to our economy as large employers locate near them. They are essential to our quality of life because many of us rely on them to get to work and long commutes result in less time spent with family or doing what we enjoy. I would be interested to hear about your commute times in Newmarket and York Region. Please contact me at 905-716-9655, darrylwolk@Hotmail.com or on social media.
Thank you for reading...
Darryl Wolk
Newmarket Regional Councillor Candidate